The Energieke Regio Foundation is there for everyone who wants to make their building more sustainable. Within the municipality of Apeldoorn, the energy coaches work with  Beonder Forms during intake interviews with hospitality entrepreneurs. With Forms, the coaches can fill in a digital questionnaire and record all data in an automatically generated report.
Profile Energieke Regio Foundation
Helps companies, civil society organizations, private homeowners and cooperative initiatives to make their buildings more sustainable.
Target
Create more awareness
Remove the unfamiliarity with financial benefits of sustainability
Approach within Apeldoorn
Uniform reporting with a standardized questionnaire
Generate automatic reports
Result
Insights into trends and developments
The entrepreneur knows where opportunities lie in the field of sustainability
Insights into revenue growth
We recently spoke with Wietse Venema – Regional Director at The Energieke Regio Foundation (north East Netherlands) – about his experiences with Beonder Forms. Energiek Regio North East is conducting intake interviews on behalf of Energiek Apeldoorn (municipality of Apeldoorn) with hospitality companies that want to make their premises more sustainable. Using a standardized questionnaire, the coaches are able to compile a uniform interview report.
Origin of Energieke Regio North East
Wietse has always had a passion for issues related to circularity and corporate social responsibility. Therefore, he and his brother started their company MijnMVO.nl and rolled out the program of Energieke Regio in the North East of the Netherlands. Wietse tells us more about the realization of the project: "The Energieke Regio Foundation started in the southern part of the Netherlands. They asked us to take care of the North-East Netherlands, because we already had a good back office and a lot of experience in organizing courses. In cooperation with Rabobank, we are now organizing information meetings in the provinces of Gelderland, Friesland, Groningen and Drenthe. Our main goal is to advise entrepreneurs on sustainable solutions. We have also recently started conducting intake interviews with hospitality entrepreneurs on behalf of the municipality of Apeldoorn."
Cooperation between Energiek Apeldoorn and the Energieke Regio foundation
Energiek Apeldoorn is an initiative that was created by the municipality of Apeldoorn to advise residents and businesses on energy efficient solutions. Energiek Apeldoorn had already developed an energy scan with Beonder Forms for residents. After the successful implementation of this project, they also decided to develop a scan for the hospitality branche. "We have just finished the first intake interviews with entrepreneurs who want to make their premises more sustainable. For the next two weeks we have already scheduled seventeen more intake interviews", says Wietse.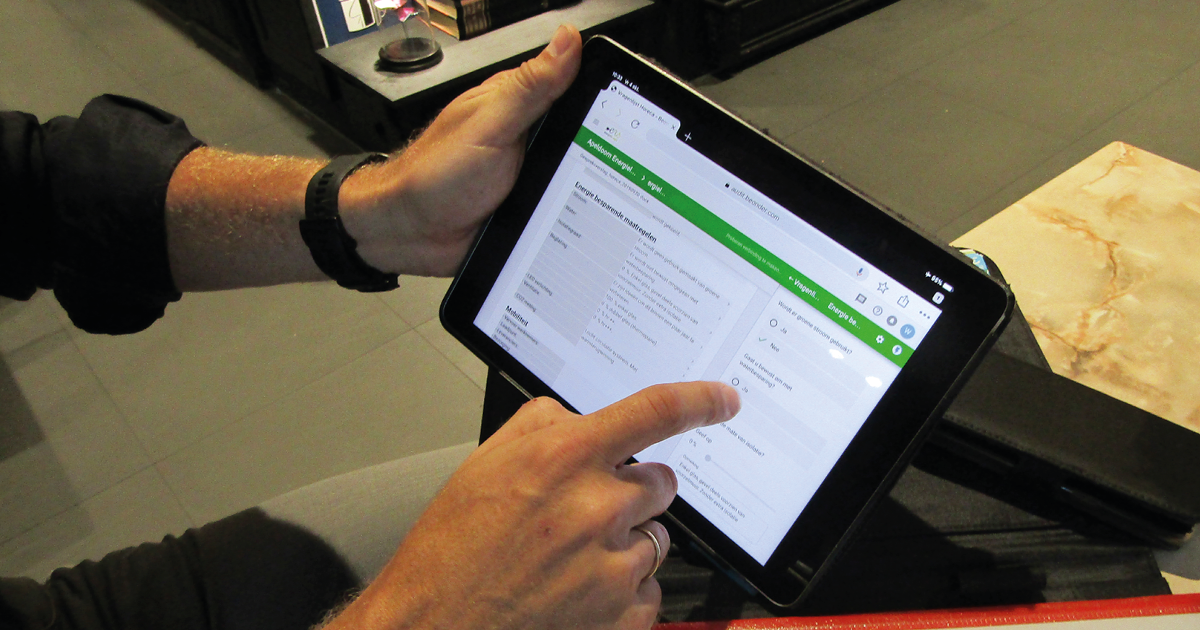 Entrepreneurs don't know where to start
Wietse indicates that entrepreneurs have a great need for expertise in the field of energy saving: "It is very important for us to create more awareness about the benefits of renewable energy. A lot of entrepreneurs really want to make steps towards sustainable energy, but they simply do not know where to start. There are various financing options and subsidies available to encourage businesses to make their premises more sustainable. In addition to that, entrepreneurs must also take many legal requirements into account. With the intake interview we are now able to provide a clear overview with all options and benefits, so the entrepreneur can take further steps. With this approach, we really get sustainability going."
Insights into trends and developments
With Beonder Forms, the coaches can fill in all questions digitally on a tablet or smartphone and simultaneously view a live preview of the report. The report gives insights into the current situation (how is the building insulated? Is green electricity being used? etc.), the wishes of the entrepreneur and follow-up actions that should be taken. Beonder Forms also offers great added value for the municipality of Apeldoorn, because all data is stored centrally. This makes it very easy to gain insights into trends and developments. Wietse: "With Beonder Forms we can use custom filters to sort the data. This makes it easy, for example, to indicate how many buildings are currently left with single glazing. At a later stage, Apeldoorn could also use the system to do an impact measurement."
"With Beonder Forms we can use custom filters to sort the data. This makes it easy to indicate how many buildings are currently left with single glazing" – Wietse Venema – regional director at the Energieke Regio Foundation North East
Good connection with Beonder
Beonder offers its software through a software-as-a-service model (SaaS). Sander Lubberhuizen – manager at Energiek Apeldoorn – said that this business model was decisive in the choice for Beonder: "With Forms, we only pay for the monthly usage, we did not have to purchase or install the software. This "pay-per-use" principle fits perfectly within a circular business strategy." Beonder also has a support team that offers full support during the use of the software. Wietse: "Within the system I can use the feedback button when I have a question. After sending the message, I always get a quick answer."
Future
Wietse indicates that the project may also be rolled out in other municipalities: "When we speak with other municipalities in the future, we can show how we conducted the intake interviews in Apeldoorn. This also offers opportunities for Beonder. We really want to help more entrepreneurs, because it is important that they start to invest more in sustainable solutions."